A heart for children, a house for their parents.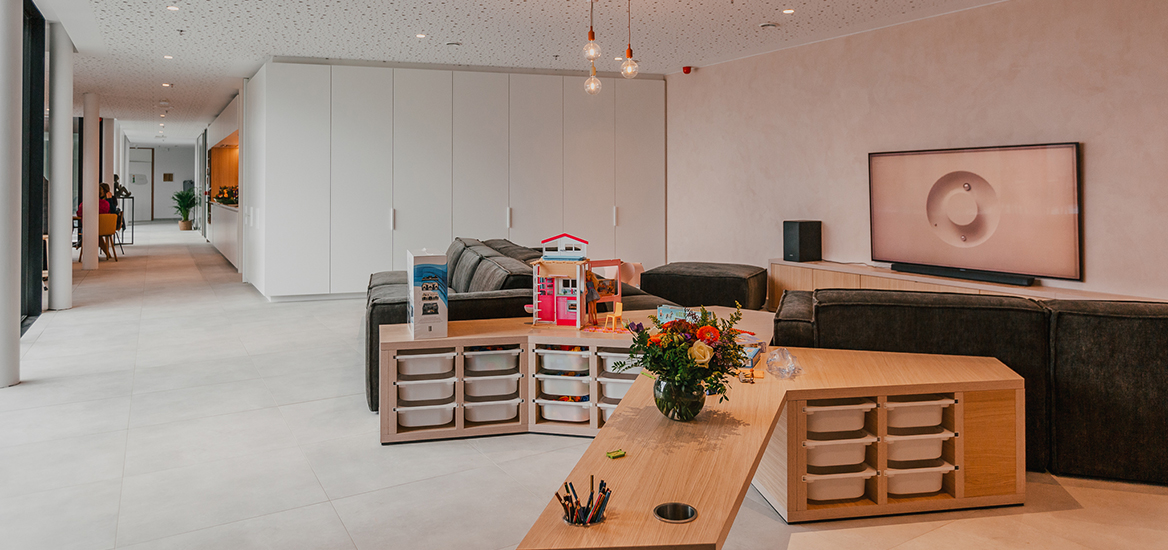 As a family restaurant, McDonald's has a heart for families. Especially when those families have children with special medical needs. That's why non-profit organization Ronald McDonald Kinderfonds was founded. All efforts are focused on two special initiatives: the "Give a smile" project and the Ronald McDonald House.
1. Staying close to your unwell child.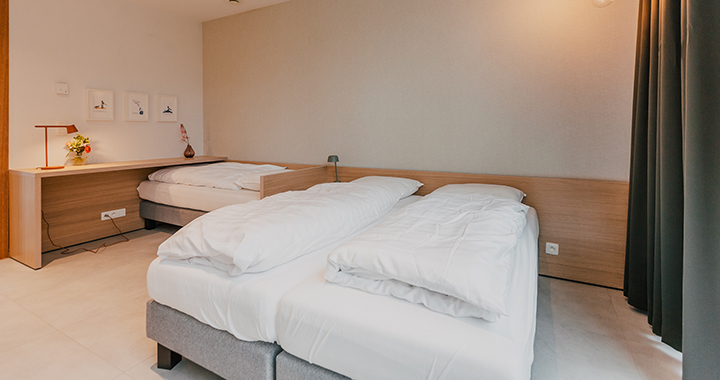 A sick child wants nothing more than to have their mum and dad close by. Unfortunately, that's rarely possible in most hospitals. And for many parents, constantly commuting isn't manageable. The Ronald McDonald House offers a solution: accommodation right by the hospital.
2019: the Ronald McDonald House opens its doors in Jette.
The first Ronald McDonald House in Belgium came to be after a close collaboration between the UZ Brussel and non-profit organization Ronald McDonald Kinderfonds. To families with a sick child or a child with complex needs, it offers warm, welcoming accommodation on the UZ campus in Jette. And it's not just the parents who can stay there—brothers and sisters are welcome too.
A house with many rooms.
In addition to accommodation, the Ronald McDonald House also offers a place to relax. There are both private quarters and communal areas, such as:
10 guest rooms with bathroom
A playroom
A living room
A kitchen and dining room
A laundry room
Two patios
A library
The House is run by a House Manager. Volunteers receive people, provide a sympathetic ear, and keep the house tidy and cosy. That way, the parents can focus on the essentials: caring for their child.
For those who need it the most.
Parents wishing to stay in the House can indicate this when their child is admitted. The hospital will then determine which families are most urgently eligible for a room. You can stay there as long as your child is in hospital. If there are no vacant rooms, you'll be put onto a waiting list.
Raising funds for the Kinderfonds.
Because the Ronald McDonald House is not subsidized, it is fully dependent on donors, sponsors, and volunteers. McDonald's Belgium and all of the franchisees raise about 80,000 euros every year. In addition, funds are raised via the piggy banks or by selling pens and glow-in-the-dark clouds in our restaurants. You can do your bit for the House, too!
2. Geef om een Glimlach
"Give a smile" was the first project of non-profit organization Ronald McDonald Kinderfonds in 2001. The goal is to financially assist parents of children born with a cleft lip, jaw, or palate. Because often, they can't afford the complex, expensive surgeries required. Thanks to this project, more than 1,400 children have been helped.
A cry for help that's being heard.
In Belgium, about 1 in 650 children is born with this facial defect. And yet, it's still an underappreciated issue. That's why we also need to raise awareness. To achieve that, non-profit organization Ronald McDonald Kinderfonds works closely with renowned specialists, several Belgian hospitals, and the two officially recognized parents' associations, VAGA (Vereniging voor Aangeboren GelaatsAfwijkingen) and AFLAPA (Association des Parents d'Enfants Nés avec une Fente Labio-Palatine).